What is it like to proofread in a co-working office?
Posted on 23rd June 2017
I have always been sceptical about using a co-working space. When I was based in my permanent home office in Coventry, I had a fantastic set-up with a chair that I found comfortable, a large high-resolution monitor and all my reference books to hand. Now that I am location-independent, I don't have my own permanent desk and chair but with the help of my Roost and an external keyboard and mouse, I've been fine working in different apartments. I like to work in silence and just didn't think I could cope working with other people around me.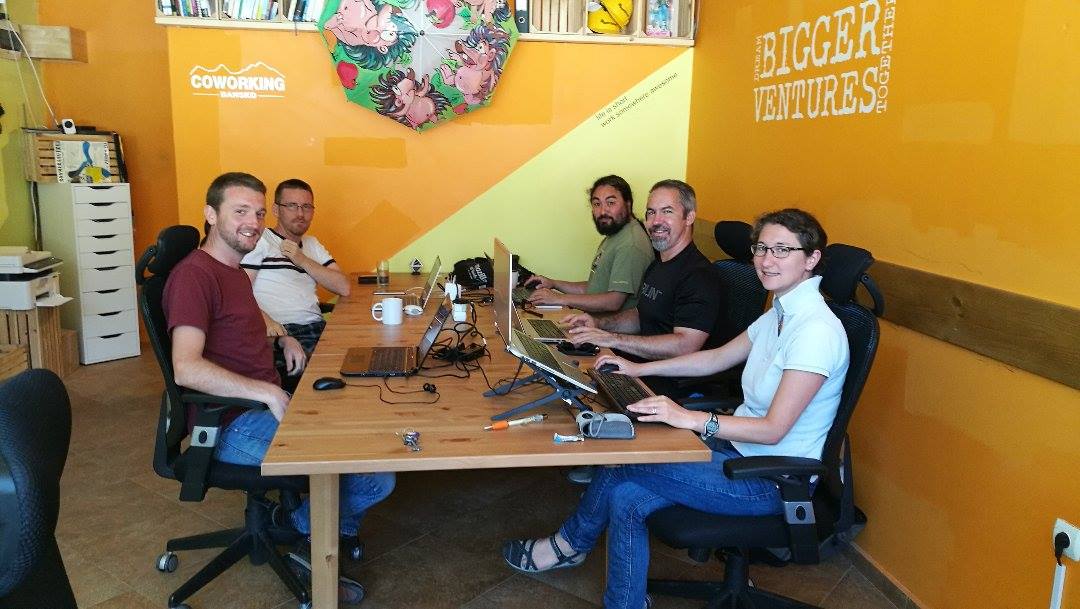 Kate working from the "social space" at Coworking Bansko.
So why did I change my mind?
Well, I am presenting about my lifestyle at a conference later this year and I thought that it would be best if I had personal experience to talk about for using a co-working space rather than going in with my preconceived ideas of what it would be like.
As with most things in life, two co-working spaces will not necessarily be equal and my sample size of one is clearly not going to get me far with a peer review, but I hope this doesn't stop you reading the rest of this post.
What are the benefits of using a co-working space?
Most of the co-working spaces I've seen online and also the one I'm using now make sure they buy top-quality ergonomic chairs, which is certainly not something I have in many of the apartments I rent and I might even venture to say that the one I'm sitting on to type this is comfier than the one I had in Coventry. The desk is also solid and at a decent height – there's even a home-made standing desk available though I've not tried that.
Touch wood, I've not had many internet issues but reliable and fast internet is almost always a given (in Nepal, I see on other blogs that a co-working space in Kathmandu has a generator to ensure internet and power are available during standard working office hours, which is not likely to be the case no matter how good a rental apartment might be). You also get a change of scenery, be that a good or bad thing. There's an outdoor deck area with a hammock at the co-working space I'm in, so there's plenty of chance to relax and not feel like it's all work and no play.
One of the major downsides of being a freelance proofreader is the potential loneliness, even when not location-independent. Some people really like their own space and not having to make small-talk by the coffee machine but if you want to get out and meet people, co-working can of course be a great option. At Coworking Bansko, a lot of emphasis is placed on the community side of things, especially as a few of the members are longer-term residents in the area so it's not a constantly revolving door of nomads. For me and my husband, turning up in a small ski resort in Bulgaria in June was appealing for the hiking and views but we didn't expect to necessarily meet many people, until we joined the co-working space. Thankfully the people are lovely: we've socialised with them, attended workshops, enjoyed sharing an office space with them, and hopefully made friends to meet in other corners of the world.
But is this compatible with my need to proofread in silence?
I don't know if this is the case in many co-working spaces but in Bansko, there's a "social" room and a "quiet" room: in the former, you can chat to others in the room and it feels like any other office environment with the ebb and flow of chat and quiet time; in the latter, you're not allowed to talk and you need to leave the room to answer your phone. This means that when I have work I need to concentrate on, I can go into the quiet room and get on with my proofreading or editing in silence, but if I am perhaps doing admin or writing blog posts, I can go in the social room and catch up with people. To me, it seems like the best of both worlds.
What about the downsides of co-working?
Of course, you might not like all the people in the co-working space, and I've heard reviews of some places being dirty, noisy or just uncomfortable. Doing a trial day or if that's not offered paying for one day before committing for longer is perhaps a sensible option if you have doubts.
It also costs money on top of either a home office or a rental apartment, though if you know you are going to use a co-working space while travelling, it might be OK to then rent a smaller apartment with less emphasis on suitable working space and internet speed.
I currently have a pleasant 15-minute walk to my co-working space but of course, any commute might be off-putting for some people compared with their usual 10-second commute. Oh, and you might not feel comfortable working in your pyjamas!
So will I use co-working spaces again?
I think it will come down to where I am both physically and mentally: in a big city, if it's a big pollution-filled commute, I probably wouldn't choose to, unless an apartment turns out to be uncomfortable or the internet isn't reliable. I also quite like my own space and don't always feel the need to meet people, but having now tried the co-working approach and liked it, I will certainly bear it in mind in future. And if/when I decide to settle down in one place, I might investigate shared offices or co-working if the price is right as the change of scenery and opportunity to meet people might appeal more than just having a home office.
Edited in March 2020 after the Society for Editors and Proofreaders became the Chartered Institute of Editing and Proofreading.
Written by Kate Haigh.