Taking your editing or proofreading service on the road: Practicalities
Posted on 24th October 2017
In my previous blog posts, I've already mentioned the practicalities of office set-up when on the road, with the use of a good monitor on your laptop, a stand, and external mouse and keyboard. For this blog post, I thought I'd instead focus on more of the travel-related elements of making it easy to run a proofreading or editing service (or any other business) on the road.
When travelling for fun, priorities will obviously be different, but when running a business, that more or less becomes the focus of what is required.
In Europe, we've mainly used Airbnb (affiliate link) to book apartments, tending to always book entire apartments for ourselves and making sure there's decent, reliable wifi/internet and comfortable tables/chairs for working.
We spend a lot of time looking at photos of the apartments and checking the specs, then emailing owners to get details about the internet access/speed and then add requirements from there – a washing machine is probably third on our list of essentials (after internet and somewhere to work, though I guess a bed is pretty essential too). The one time my lifelong dream of living in a certain part of Berlin with a balcony overrode the business requirements was the one time I really struggled with the table. Not that I could tell from the photo but the desk was much too high, even when I stacked two chairs and a cushion, and I got quite a sore arm after a long day. I could have gone to a coworking space or asked the apartment owner if another table was available but I just plodded along as it wasn't unbearable.
Pete ended up taking on a project I'd worked on a few years ago – when I did it, I had two monitors to help but we don't currently travel with extra monitors. Instead though, we had something like a 44-inch TV with an HDMI port in the apartment we were renting. He used this to cross-refer photos of an ancient manuscript with a PDF file, which was much better than on his 15-inch laptop screen. I think it might have been too big, and he seems to be sitting very close to it, but I guess everyone will find a way that works for them.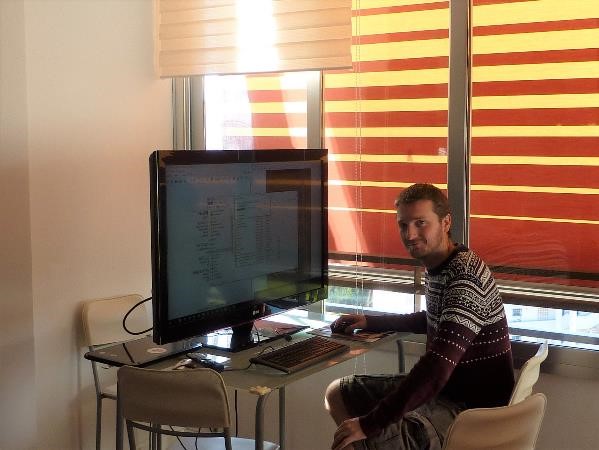 To cowork or not?
By booking apartments that seem suitable for me to run a proofreading business from, so far I have not needed to look into coworking options. However, once I was booked to present at an editing conference about being a digital nomad, I thought it would be good research for me to try out a coworking space. I've gone into details about it here (yes, I used a hyphen there and not here but the jury is still out on which is right/wrong, so I'm going for internal consistency in each blog post – my website, my style guide, my rules) so I won't repeat all of that, but if I get to an apartment and the internet isn't reliable or the set-up doesn't work, or perhaps I just want a change of scene or opportunity to meet people, I'd certainly look into local coworking options. New shared office spaces open all the time but this website seems to be a good place to start looking for a suitable place for your business when you're on the road.
Online tools for a resilient editing and proofreading business
When I worked for a bank, the company had very extensive robustness tests and contingency plans and running a small business should really be no different. However, I know that until I got ready to head off with my business in my backpack, I admit I was perhaps a little lax on this. Not any more!
I have discussed some of the online tools in previous blog posts so will try not to repeat myself, but the following is a list of some of the key online tools and resources I use to ensure my business is fire/theft/ditsy-proof:
Cloud storage is essential; I use Dropbox but other options are available. By saving files to the cloud (with clients' permission), if something happens to my laptop, I will still be able to access the file on another computer, whether that's a quickly bought replacement or one I can rent/borrow.
As discussed in my previous blog, I switched to IMAP email so I can access my emails from any of my devices or even from an internet café or coworking space computer.
I have online subscriptions to Chicago Manual of Style and Oxford online, the latter also giving me access to New Hart's Rules, The New Oxford Dictionary for Editors and Proofreaders, Garner's Legal Usage and Fowler's Modern English Usage.
I can still access the SfEP online forums (only accessible to members) and attend Skype club, meaning I can keep in touch with colleagues and stay up to date in the industry.
Some random things to take that you might not have considered
Not all of the below relate entirely to running my proofreading business but being comfortable and happy in general will obviously make work more pleasant. It goes without saying that the laptop, stand and keyboard and mouse will go with you but the below are a few more slightly random items:
An HDMI cable is really useful – without one of these, Pete wouldn't have been able to connect his laptop to the TV. Obviously we could have bought one when on the road but it's lightweight and small so we carry this with us.
A travel Bodum cafetiêre, because let's face it, what proofreader or editor can function without a daily hit of coffee (or tea)!
A knife sharpener! Travelling across borders or in planes with large, sharp knives probably isn't wise but if you take a sharpener, no matter how blunt the knives are in the apartment, you should be able to sharpen it and chop vegetables. After all, my proofreading service would stall somewhat if I had a hand in bandages because the knife slipped while chopping onions.
A means of satellite navigation – I say this in a convoluted way because we use a Garmin GPS device but I know many people now prefer to use their phones. I prefer the two-day battery life of the Garmin and the fact it doesn't rely on internet, but either way, something to get you round a new city or down from a mountain is always good (N.B.: if we go for 'proper' walks, we do buy the best map we can find of the area and then leave it where we're staying).
A copy of your passport in a waterproof folder. We carry this with us most of the time, leaving our passports in more safe places. We also have photos of all other important documents, including visas (where applicable), yellow fever certificates, my glasses prescription, details of injections we've had and anything else we think we might one day need and keep those stored on the cloud.
We've also been known to travel with a potato masher, a corkscrew, plastic champagne flutes and even Pete's favourite (thankfully small) statue. We've downsized considerably over time and different things take on different levels of importance.
Edited a few days later to add one of the most important items: a well-equipped first-aid kit! I can't believe I forgot to mention this but was reminded when unfortunately Pete got ill. Thankfully we had suitable medication and rehydration salts. I'll leave the rest to your imagination.
If you're travelling and working and have any really useful ideas or tips for what helps make working as a location-independent professional easier, do let me know.
If you have any specific questions and want some individual advice, feel free to email me with questions or post them on my Facebook page.
Written by Kate Haigh.